Barbershops have exploded in popularity in Singapore. Just like with starting a cosy café, there's a certain romance about running an old-school barbershop. From the plush leather barbering seats with their glittering chrome bases, to the slick razor-faded haircuts from the 50s and 60s, delivered with the intangible atmosphere of a bygone era – it's all quite alluring for would-be entrepreneurs.
But before you plunge your hard-earned savings into setting up your own barbering business, it's important to know what you need to set up a barbershop, and how it'll affect you financially. Here's the ultimate guide on how much it will cost to start a barbershop in Singapore!
Rental Costs
The largest chunk of your start-up costs is likely to go towards rental. Rents will differ significantly depending on where you locate your barbershop. You could go for a super-central location within the CBD, which gives you daily access to a large pool of working professionals and general shopping crowds. You could also opt for a location not quite within the CBD, but still within the broader Central Area  – hip areas like Bugis come to mind. Or, you could venture out into heartland suburbs, where foot traffic is still healthy, but rents are lower. The location you choose will have a large impact on your costs, revenue from foot traffic, and potentially your brand image. Weigh the trade-offs between these different factors carefully.
CBD/City Centre Locations
Leasing a space in ultra-prime locations like City Hall, Raffles Place, or Telok Ayer will cost between $10 to $20 per square foot. So, for an average 500 square feet barbershop, expect to pay $5,000 to $10,000 in rent each month. A quick Google search will reveal that many barbers choose to locate their shops in these prime central districts. In the pre-Covid-19 era, such locations offered barbers easy access to the working crowd.
Even though Singapore has largely reopened business activity, many office employees are still working from home for a fair portion of the week. They will likely continue to be doing so for the foreseeable future. In such an environment, it's probably a good idea for new barbershops to think about basing themselves in residential districts. Areas like Tampines, Sengkang, Toa Payoh, Jurong, etc. are all well-populated estates that new barbers can tap into. Rents are more affordable in these areas, and you can still build a loyal following through hip branding, investments into social media marketing, and good service.
Heartland Suburbs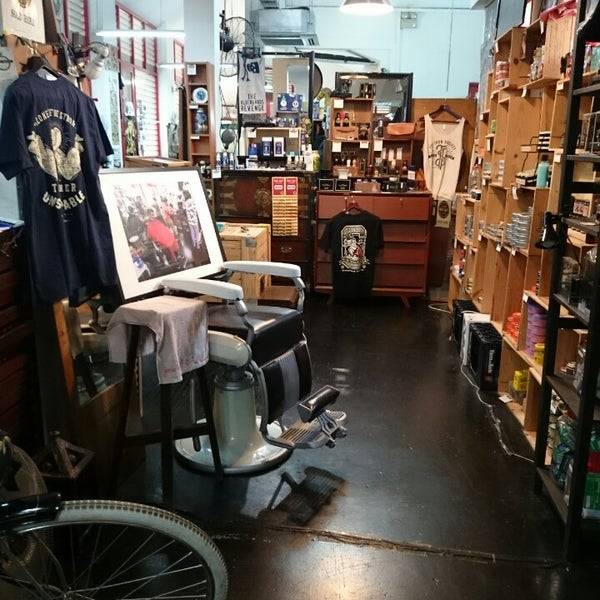 With rents stretching to such astronomical amounts in the city centre, some barbers have chosen to ditch "hip" addresses, and taken themselves out into the suburbs instead. For instance, old-school barber Acidic Chop Shop is based in Jurong West, while The Panic Room is based in Geylang. Although the rent in these neighbourhoods are lower, they're still not always cheap by any means.
For heartland areas, barbers can expect to pay between $5 to $9 per square foot. For a typical 1,000 square foot barbershop, this works out to a monthly rent of around $2,500 to $4,500.
Residential districts are a worthwhile consideration, since transportation infrastructure in Singapore is highly-developed. It's not particularly difficult to travel to one's favourite barbershop once or twice a month. People will return as long as the service is top-notch and value-for-money. Businesses like The Panic Room have managed to capitalise on this by basing themselves outside of the city centre, and successfully building a large following that is happy to travel to their store. Aspiring barbers who don't have access to lots of capital, or don't wish to be saddled with a highly monthly rent, should consider this option.
Upfront Rental Deposits
When you sign the lease, your landlord will typically ask you to provide an upfront deposit of between 3 to 6 months worth of rent. In addition to this deposit, make sure you also have 3 to 4 months' worth of operational costs (rent, salaries, consumables, etc.) saved up. This will provide you with a live-saving cash flow buffer, just in case your business doesn't produce as much revenue as you initially projected. You don't want to end up with a bankrupt business before you've even had at least a year or two to prove your business model.
Rent Increases
Although Covid-19 has certainly dampened some of the demand for commercial rental, there's only so much space to go around in Singapore. Landlords are likely to increase your rent when your lease expires. Experienced barbershop owners who have good contacts in the industry, or previous relationships with landlords may be able to negotiate limits on rent increases, alongside other benefits like lower rental deposits. However, if you are new to the barbershop industry, or your barbershop is too small to warrant more favourable terms, it's not likely that the landlord will grant you much leeway in negotiations.
If it's your first time setting up a barbershop, it's advisable for you to sign a shorter lease – around 6 months or so. Although this makes it more likely that your rent may be increased at the end of 6 months, a shorter lease will minimise the amount of start-up capital you need to put in. By contrast, if you sign a 24-month lease from the get-go, you're stuck with paying rent for the next 2 years, regardless of whether you make money or not! Signing a shorter lease will also help you validate whether your business is actually working, and whether you have the ability to pull customers in and turn a consistent profit.
If you eventually find that your business is not working, a shorter lease will give you the option of either shutting it down, or pouring in more funds to keep the business going. A long lease, however, would block you from quickly exiting a business that's hemorrhaging cash.
Relocation Costs
You should also take into account potential costs if you plan to relocate. Most leases will include a clause requiring that you restore the location to its original state. Restoration fees typically run around SGD 3,000 to SGD 5,000 for a 500 square feet barbershop.
Renovation Costs
After you find a good location for your barbershop, you'll need to renovate the space to convey the aesthetic you want. Maybe it's a sleek and modern barbershop, with neon lights, lots of glass and burnished metal. Or maybe you prefer a grittier aesthetic, and want a rough-and-tumble old-school barbershop. Whatever your choice, expect to pay at least SGD 10,000 to 20,000 for renovating a 500 square feet barbershop. This estimate includes interior design consultations, actual renovation work, and the cost of furnishings.
A lot of your marketing is going to come from social media – pictures of haircuts you've just provided, pictures of clients/yourself at work in your barbershop, etc. Given that your premises is going to feature so prominently in you marketing efforts, it's advisable to invest a little more in an attractive interior design. This will pay dividends over the long run, as more customers get to know about your cool-looking space.
Manpower Costs
After rent, labour will be your second biggest recurring expense. Manpower in a barbershop is pretty flexible. The amount of barbers you need to recruit really depends on the scale of business you want to open, and whether you can barber yourself (or not). If you want to just open a one-man show, you can find a small space in a mall or housing neighbourhood, and just run the entire business on your own. You won't have to deal with the stress of staff overheads. Of course, you'll be completely limited in how much money you can make, since you won't have barbers who can pay you commissions from clients they serve. If you want to run a bigger business, then you'll need to hire additional barbers who can bring in this incremental revenue for you.
Function
Staff Headcount
Typical All-In Compensation
Cashier/Receptionist
Optional
$1,500/month onwards
Junior Barber

(<2 years experience)

1
$2,000/month onwards
Experienced Barber

(>5 years experience)

1
$4,000/month onwards
Total Headcount
2
Total Cost
$6,000/month onwards
There are various compensation schemes that you can employ for your barbers. The most common compensation structure is a basic salary, plus a commission per cut. This incentivises barbers to provide good service, and to build relationships with their clients to keep them coming back. Another common compensation scheme is to rent chairs in your shop to each barber for a flat monthly fee.
If you're an experienced barber yourself, you can also hire barber apprentices. Apprentice haircuts are almost always provided at a discount compared to their more experienced colleagues. This way, you can attract potential clients who are on a budget. You can also build up a talent pipeline by grooming these apprentices into experienced barbers. By hiring them when they're still young and green in the industry, you save on the salary expense of having to hire an experienced barber straight of out the gate.
Barber Training
If you plan to do the barbering yourself, but don't actually know how to cut hair yet, there's two methods you can use to get started.
Method 1: Attend a barbering course
A basic barber's course starts at around SGD 1,500, per participant. Most of these courses last for 2-3 days. These courses will go over the fundamentals of hair-cutting techniques, like performing fades, line-ups, and cutting layers.
Here are some courses in Singapore that you can attend:

1. Hair Mafia & Co. Barber Course: SGD 1,799 for 2 days
2. Beauty Recipe Intensive Barber Course: SGD 1,588 for 2 days
Once you've completed your chosen course, you can then go ahead to work in a barbershop as either an apprentice or a junior barber.
Method 2 (Recommended): Apprentice in a barbershop
An alternative is to become an apprentice in an established barbershop. Some apprenticeships may be paid, others may be unpaid. You will start from the bottom, and likely have to do "menial" tasks like cleaning the shop and tools. If you're truly passionate about barbering, you'll stick through it. There's no better way to learn how to cut hair than to learn from others who've been doing it for a long time.
Equipment
Luckily for barber entrepreneurs, most barbering equipment is relatively affordable. First up, you're going to need a set of good hair clippers to give your clients amazing hair fades. The most well-known brand in the industry is Wahl, which also happens to be the number one brand of clippers sold in the United States.
You'll need a hair detailer as well, which you'll be using to make crisp line-ups. You can use hair detailers for more precise cuts on beards.
You'll also want to have a foil shaver. A cordless model, like this one from Andis, is particularly helpful and well-made.
For scissors, you'll need barber's scissors and thinning scissors.
Lastly, no barbershop would be complete without a good set of razors. Now, modern hygiene practices dictate that using the same single-blade razor on hundreds (or thousands) of customers is probably not the best idea. The problem with a traditional straight-edge razor is that you need to also have a commercial disinfectant unit (which are expensive), otherwise you're going to run a serious risk of infectious or blood-borne diseases being transmitted through your shaves. A straight-edge razor must also be stropped before each shave, which adds additional labour to the already labour-intensive job of barbering. Straight-edge razors must also be professionally honed every few months to restore the keenness of the blade, which adds additional cost. You can sharpen the blade yourself on a whetstone, but that takes practice and time.
Enter the barber's saviour: the shavette. Shavettes take single-use, disposable razor blades that can be swapped out for each new client. Since a new blade is used for each client, shavettes represent a more hygienic and convenient option. Furthermore, a shavette blade from a good manufacturer (like Feather, or Merkur) will be sharper than a straight razor's blade. This will give your clients the closest possible shave.
Among the many brands of Shavettes, Parker makes durable and affordably priced shaving sets. This one below is full-metal, which gives it a nice weight. It's sure to make you look like a real professional each time you whip it out to give your clients a clean, hot shave.
Parker Shavette, available from The Panic Room ($33).
After you've got your hair trimming equipment ready, you'll want to have nice, plush chairs to make your customers comfortable. If you're setting up an old-school barber, then this Old Style Barberchair is perfect for you. At SGD 440 per chair, it's reasonably priced. If you're not ready to spend that much, then this barber chair might be more to your liking. It won't convey the same old-school vibe, but at SGD 119 per chair, it's really priced to move. You can consider getting a rubber barber's mat to go with your chair as well. These mats are non-slip, and their thick cushioning effect can help relieve stress on your joints from standing all day.
Consumables
Your main consumables are going to be hair styling product, dusting powder, shampoo, disinfectant, and razor blades. The great thing is that most of these consumables are pretty affordable, so they're not going to take away much from your bottom line.
You can stock decent-quality but affordable product like American Crew or Suavecito. Suavecito makes a giant 32oz tub (900g) for only $130. This tub size is specifically designed for barbers. If you use 3g of product to style each client, that works out to just 43 cents per client. Highly economical.
You can also consider oil-based pomades for true greaserheads. Try the famous Reuzel Pink, which is sure to satisfy any greaser who walks into your store.
It's also a good idea to stock some hair product to sell. You can apply product to your clients' hair after their cut, and if they like the product you can then try to close a sale. This will form a nice extra revenue stream for you.
Utilities
Water and electricity will cost around $1,000 a month for a typical barber that operates around 8-10 hours daily.
Summary of total set-up costs for a new barbershop
| | |
| --- | --- |
| Item | Cost |
| Rental deposit | $10,000 |
| Labour | $10,000 |
| Equipment | $5,000 |
| Consumables | $200 |
| Utilities | $1,000 |
| Total | $50,000 to $80,000 |
How many haircuts will you need to break-even?
This is one of the most important questions you'll have to answer when deciding whether you should open a barbershop. If we add all the costs above, minimum start-up costs for a barbershop are about $50,000 to $80,000.
Let's use the assumptions below for our break-even calculations:
1. You run an old-school barbershop
2. You charge $35 for a haircut (market rate)
You would therefore need to provide 1,428 haircuts to recoup your initial investment. Assuming you deliver an average of 10 haircuts a day, you would take about 143 days to break even, or about 5 months.
Protect your barbershop
Starting a barbershop is expensive. Suffering accidents while running your barbershop is even more expensive.
A fire could break out from a faulty electrical outlet, burning your shop down and taking all the money you invested with it. A customer could get injured during a close shave or haircut, leaving you legally liable for their injuries. One of your staff might slip and fall at work, leaving your business liable to pay his medical expenses under MOM's Work Injury laws.
Given the $50,000+ you will spend building your barbershop, make sure you protect your investment with a good barbershop insurance policy. These policies start from only $200 a year, and will provide you several hundred thousand dollars' worth of insurance coverage. Click here to buy barbershop insurance in 3 minutes, online!