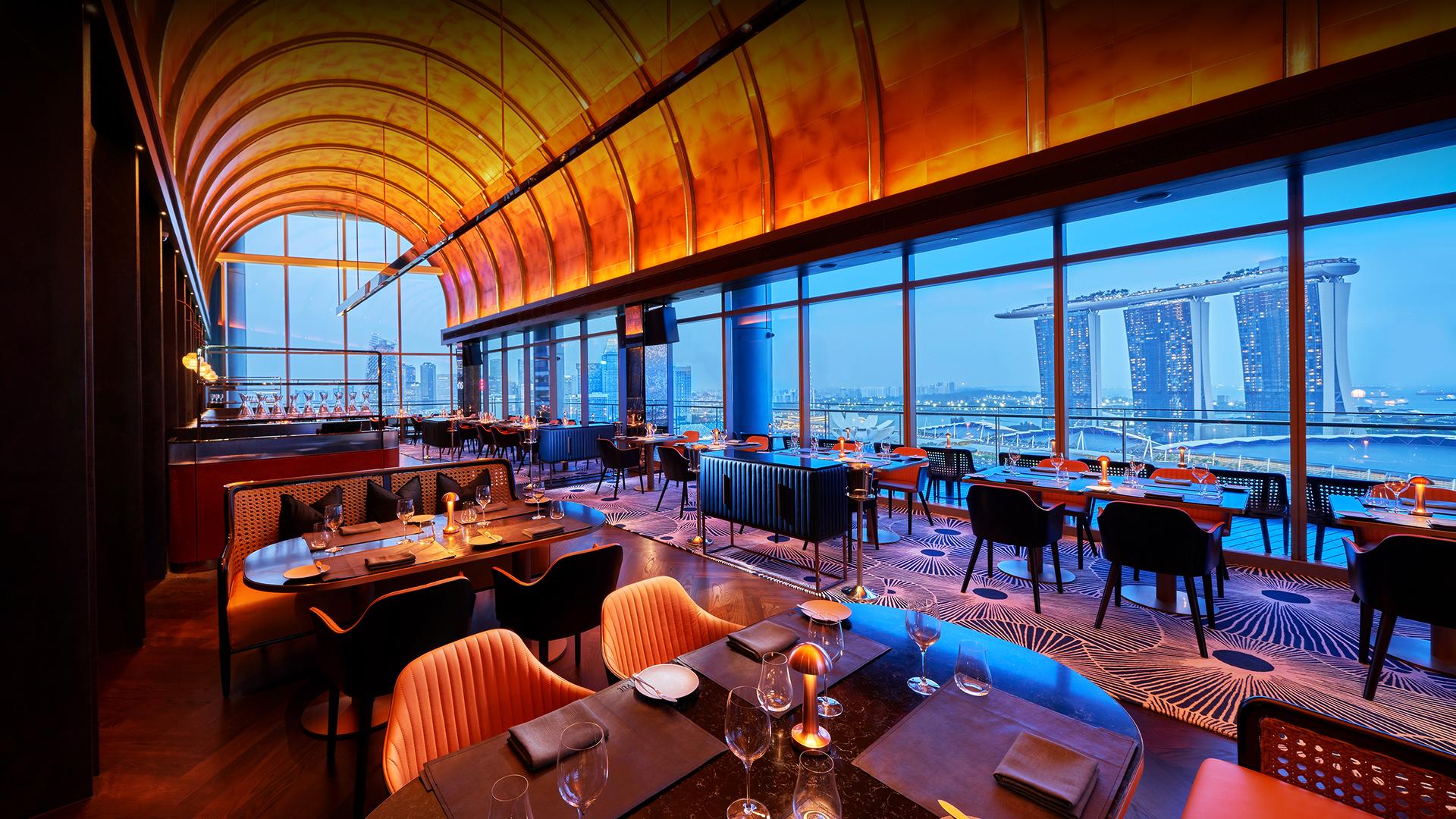 Are you thinking about how to start your own restaurant in Singapore? Do you have dreams about running an amazing food business, or being hailed as a prodigy chef? Look no further – this all-in-one guide was written specifically to help you build your very own restaurant!
The 12 steps to becoming Singapore's next Gordon Ramsay / David Chang:

1. Choosing a restaurant concept
2. Writing a business plan
3. Formulating a menu
4. Identify funding sources
5. Incorporating the company
6. Picking a location
7. Renovation
8. Purchasing equipment
9. Applying for necessary licenses
10. Hiring employees
11. Marketing and branding
12. Acquiring food poisoning and restaurant insurance
Step 1: Choose a restaurant concept
There are a multitude of restaurant concepts you could build. Should your restaurant be quick-service, casual dining, or a high-end place? Will you serve Chinese, Indian, Japanese, or other cuisines? Do you want to build your brand around specific food products, like steak or seafood? There are many moving parts here, and the concept you choose will play a central role in defining your value proposition to hungry customers.
Some examples of restaurant concepts you could build:
Casual Japanese-Italian, specialising in fusion pasta dishes
Quick-serve Mexican, serving a wide variety of tacos, burritos, and rice bowls
Quick-serve Korean, focusing exclusively on Jajangmyeon
Mid-tier American diner, serving burgers, barbeque, and shakes
High-end Western steakhouse, focusing on prime beef cuts
Step 2: Writing a business plan
Because there's so much ahead of you, you'll need a thorough business plan to keep you on track. Writing everything down makes executing your restaurant dreams easier, and helps you foresee any potential problems you might face. If you don't write out a business plan, it' likely that you'll miss out crucial parts of execution (e.g. marketing, strategy, competition) that may very well jeopardise your entire business.
What should go into a good restaurant business plan? Some key items to include are:
A precise vision of your restaurant concept,
An overview of your target market,
Your menu and price points,
Inventory sourcing plans,
Financial projections for the next 3-5 years,
A go-to-market strategy,
Research on your competitors,
Competitive advantages
Location planning,
Renovation plans
Employee hiring plans and incentive programmes,
Training plans for food and beverage preparation,
Business continuity plans,
Expansion opportunities, and
Business risks.
It might look like a long list, but remember: the more you plan at this stage, the less pain you'll have as you move ahead. If you need further help writing a business plan, read this seminal article from Harvard Business School.
Step 3: Formulating the menu
By now, you should have at least a rough idea of what kind of cuisine you'd like to serve. It's time to take those rough thoughts you have and really shape them into precise food items that customers will love.
For example, let's say you want to start a casual Japanese Tonkatsu restaurant. You'll have pork katsu as your main dish. Will you serve other types of katsu, like prawn katsu? What about side dishes, like gyoza, or krokke (croquettes)?
A crucial point when formulating your menu is thinking about competitive differentiation. You'll need to understand what other Tonkatsu restaurants are generally serving. How will your Tonkatsu restaurant be any different? In Nagoya, Japan, there is a special local twist to Tonkatsu. Nagoya is famous for "Red Miso Tonkatsu". It's traditional Tonkatsu served with a deeply rich, thick, sweet-salty Miso sauce that's packed with innumerable layers of salivating umami flavour. A quick Google search for "Red Miso Tonkatsu in Singapore" doesn't bring up too many results. You'll find only 2 or so notable results. One is for Ma Maison, a group of Japanese restaurants that's been around for a long time, and the other for Hajime Tonkatsu, a restaurant in Serangoon Gardens. If you've been to Nagoya and tried their Red Miso, you'll know that this sauce is absolutely heavenly. Perhaps this might be a good point of differentiation for your restaurant? It's not easy to make an amazing Red Miso sauce.
You should also consider the general quality of your food. The Tonkatsu you fry might be delicious, but are they really that much better than other Tonkatsu served across Singapore? Is it good enough to attract someone from the other end of the island to patronise your restaurant? Think about the true quality of your food.
You'll also want to think about your beverages. Canned drinks are standard. What about fresh juices? Will you serve alcohol? If yes, what kinds? A Japanese Tonkatsu restaurant would be remiss without a nice selection of Japanese beer. Again, this might be another area for differentiation. Many Tonkatsu restaurants serve the same old rotation of beers – Tiger, Heineken, Sapporo, Asahi, etc. Are there certain Japanese craft beers that you could incorporate to differentiate your beverage selection? A delicious, small-batch Japanese beer might go down very well with hot and crispy Tonkatsu.
The quality of your product will be instrumental in building your brand and revenue. So take as much time as you need at this stage to really refine your menu, and ensure that you can execute your food preparation perfectly.
Step 4: Identify funding sources
Starting a restaurant in Singapore is expensive. Ingredients are pricey, labour is costly, and rents are very high. You'll need to make sure that you have access to sufficient capital to not just launch your business, but also to tide you through at least 2 years of operations. You need sufficient financial runway so that your restaurant has time to prove itself.
Banks are highly unlikely to lend you any capital to start a new business. There's no business credit history, and it's usually too risky for their credit portfolio. Venture capitalists also don't fund restaurants, since the risk-adjusted returns are too low compared to high-growth technology startups. As such, you'll have to source funds from other avenues to start your dream restaurant.
Some funding sources you can consider include:
Your bank account:
Hopefully, you've saved up enough to fund at least a portion of your startup capital costs. Consider all assets that you have – your checking account, savings accounts, and any stock investments you may hold.
Friends and family:
Here's where you'll find out who your truest friends are. Have discussions with good friends and close family members. Share your entrepreneurial dreams with them. When you're discussing your plans with them, make sure that the central question of "Why should I invest" isn't structured along some self-centred approach of "because you're my uncle" or "because we've known each other for 10 years". Put your personal ties aside. You've got to show your friends and family that you are uniquely positioned to build Katong's next great Laksa restaurant, or Orchard's best Korean BBQ place, and that they're likely to earn a great return by investing with you. Oh, did I mention that this is one reason why a thorough business plan is so important? You'll make much more convincing presentations if you have a solid plan. This way, you can really dig into the details, easily address whatever concerns they may have, and confidently show them that you've really thought the entire idea through.
Business partners:
Because the cost of starting a restaurant in Singapore is so high, it's best to found your restaurant with a few business partners. You can each pool your money into the business, and also tap each person's network for additional funding. This reduces the stress on each individual co-founder. Also, business partners will be essential for bouncing ideas off, and navigating the myriad challenges that come with starting and scaling a business. Solving problems and growing a business are just exponentially easier when you have a partner (or partners) running alongside you.
Step 5: Incorporating the company
Don't make the mistake of running a restaurant without a registered corporate entity. If you don't have a registered company, your Food License (more on that in step 9) will not allow you to hire foreign workers. If you can't hire even a single foreign worker for a restaurant, please kindly be prepared for a world of pain.
There's various entities that you can choose from (e.g. Sole Proprietor, Private Limited), but generally it's a good idea to register your company as a Private Limited. Registering a Private Limited entity will shield you against personal liability for major risks, like food poisoning. A Sole Proprietorship doesn't provide you with the same liability shield, so it might not be the best idea.
Incorporating a Private Limited is straightforward, and doesn't take much time at all. It's also affordable – many corporate secretaries have packages that hover around only $300 to set up a company. Ensuring you operate a corporate entity will also make it much easier to handle routine business tasks like hiring workers and paying taxes.
You can use online corporate secretaries to easily incorporate a company. Read our guide on Singapore's best online corporate secretaries to pick one for yourself.
Step 6: Picking a location
You'll need to scout for a great location for your restaurant. Here are the best methods to find a space that's available to rent:
Online real estate portals like propertyguru.com.sg
Engaging real estate agents to do the legwork for you
Straits Times Classified Section
Real estate portals like PropertyGuru will give you a quick idea of how much the going rates are for certain areas and specific property sizes. When engaging real estate agents, it's helpful to already have an idea of which areas of Singapore you'd like to locate yourself in, the approximate property size you're seeking, your restaurant concept, and your budget. A good real estate agent will be able to sniff out good commercial spaces that fit your fledgling restaurant's needs. In order to expedite the process and ensure that you have a ready list of potential sites to review, you can consider engaging multiple real estate agents to assist you.
When thinking about your location, you want to strike a balance between affordability and visibility to foot traffic. If you can build a good brand (say, through social media marketing), then you may not need to splurge on an expensive ground-floor unit that has high visibility to passersby. You could instead opt for a unit that's more tucked away, and rely on your online marketing and word of mouth to draw customers to you instead.
Here are some additional important points you should consider when picking a restaurant location:
Potential sales:
Look at your financial projections. Are your expected sales able to support the rent a property is asking for? Make sure that your projections are conservative. In case you don't meet your sales targets, a location with lower rent provides you with a larger margin of safety.
Traffic density:
Is your chosen location in a high-traffic area? Is it inside a mall, or close to one? What about proximity to public transportation hubs, like MRT stations? Hang around outside the location – how many people do you see walking by on average? How many customers do you see patronising neighbouring businesses?
Site history:
Do some research on previous tenants. Who were the previous tenants, and why did they move out? Was it because the location itself was poor?
Onerous lease terms:
Make sure that you aren't signing up for lease terms that are particularly onerous. You can engage a lawyer to help you review whether particular terms place an undue legal burden on you.
Future development:
Is the area slated for future development, like new MRT stations, or new shopping malls? Is it part of a broader development of a particular region, like the Punggol Digital District, that may bring in large waves of new potential customers?
When you've identified your chosen location, don't sign the lease straightaway. This is because further regulatory approvals are still required before you can launch your restaurant. What you can do in the meantime is to sign a "Letter of Intent" with your prospective landlord. This will allow you to reserve your chosen location while you clear the various regulatory requirements.
Do note that if your chosen location was not used as a restaurant before, then you'll need to apply for planning permission from URA to convert the space into a restaurant. It costs $535 (true as of publication) to submit an application, and generally takes about 10 working days to be processed. It's vital that you do this before you sign any lease agreements. If you don't get permission from URA, you can't use the space as a restaurant!
Once you've picked a location, it's time to transform it into the restaurant you've always dreamed of.
Step 7: Renovation
When you're planning your renovation, it's a good idea to engage an interior designer that's experienced in planning restaurant projects. A designer that has handled many such projects before will be able to help you maximise every square footage of your restaurant space, which in turn will maximise revenue.
In terms of layout, restaurants usually will allocate about 1/3 of their total square footage to the kitchen. Some extra space may be allocated to storage, and potentially a small office area. The remaining 2/3 goes to the dining room.
Also, some restaurant industry reports note the following customer group sizes:
Groups of 2: 40-50%
Groups of 3: 30%
Groups of 4 or more: 20%
With the above data in mind, it's best to have tables that can fit 2-3 people. This allows you to optimise seating efficiency. Small tables can seat small groups, and can be pushed together to fit larger groups. Bigger tables can go to waste if you don't often have larger groups coming in. These figures may change depending on your restaurant concept.
A good designer will also help you design an efficient production area. Often, many production areas are poorly laid out, which causes slower food delivery times, poorer service, and generally more time wasted reaching for or finding things. Make sure that there's adequate space for food preparation, cooking, baking (if needed), dishwashing, equipment storage, food storage, trash storage, and receiving/delivering food. Make sure the production area is planned in a way that all the key equipment or ingredient areas are within close reach of one another. Your cooking area needs to have enough space for multiple cooks to work side by side.
Also, don't skimp on your renovation costs. You might be tempted to opt for that contractor that gave you the cheapest quote – so cheap it left you wondering if it really is too good to be true. When you're faced with sky-high start-up costs, any savings will seem like a gift sent straight from heaven. Don't do it. Cheap prices mean cheap designs, cheap materials, and cheap workmanship. Poor designs affect your customer experience, and will influence your ability to attract new and repeat business. Low quality materials and workmanship mean your furnishings won't last you very long, and new work will need to be ordered again.
In the long run, you're much better off investing your money with a reputable interior design firm, along with a good contractor. High quality renovations will last you a much longer time than shabby work that you have to re-do in a couple years. It pays to play the long game here.
Also, sometimes restaurant owners forget this, but having a beautifully decorated restaurant is a really powerful marketing tool. You can use your restaurant interiors to create beautiful Instagram and Facebook posts. You'll also wow customers, and these impressed diners will be more likely to talk about "that gorgeous restaurant" they visited, spreading word-of-mouth about your business.
Step 8: Purchasing equipment
Buying all the equipment will be one of your biggest start-up expenses, after renovations. For a 1,000 sq ft. restaurant with about 40-50 seats, you can expect to spend at least $50,000 just on the equipment alone.
Here's a list of equipment you'll need for a restaurant:
Stove range with exhaust system
Ovens
Chillers/Freezers
Dishwasher (optional)
Pots and pans
Knives and knife sharpeners
Miscellaneous cooking tools
Plates, bowls, and cutlery
Refrigerated display cases (optional)
Furniture like chairs and tables
When purchasing equipment, sometimes restaurant owners will debate between buying from a local supplier, or whether they should buy direct from platforms like Alibaba.
| | | |
| --- | --- | --- |
| | Purchasing direct (e.g. from Alibaba) | Purchasing from local supplier |
| Cost | Cheaper. Some items like fridges can be significantly cheaper (up to 25%, or more) | Costlier |
| Convenience | Delivery to your door-step | Slightly more convenient. In addition to door-step delivery, some suppliers will also do the set-up and installation (for a fee) |
| Speed | Slower due to international shipping | Usually faster, assuming stock is available in the warehouse |
| Warranties, servicing and repairs | More troublesome. If you have to return the item, you need to ship the equipment back to China, which is costly. | Easier. Returning equipment is more convenient with local shipping. Warranties are also easier to fulfill with a local company to deal with. |
Step 9: Obtaining required licenses, permits, and certificates
The most important license you need is the Food Shop License. This license is issued by the Singapore Food Authority (SFA). The application will cost you $195 (true as of publication). It may take 18 working days, (almost 1 calendar month) or more to complete the entire process. Click here to apply.
If you are taking over a premises that was previously used as an F&B space, then you should inform the previous tenant to cancel their Food Shop License. This is because you can only be issued a Food Shop License after the previous tenant has had theirs cancelled. So it's best to get in touch with them to hurry things along.
What's the overall process like when applying for a Food Shop License? Here's an overview:
Submit an online application via GoBusiness (note: you'll need your CorpPass)
Book an SFA inspection. You'll need to schedule this at least 7 days in advance.
Pay for the license after approval
To ensure a smooth inspection process, make sure that your premises complies with the requirements listed by SFA. Click here to view the full checklist.
There are a few key things to note about renting restaurant spaces:
Fire Certificate:
You should ask for a copy of the landlord's Fire Certificate. A Fire Certificate is issued by the SCDF to property owners, certifying that the property meets basic fire safety standards. If the location you chose was not used as a restaurant previously, there may not be a Fire Certificate. In this case, you should ask the landlord to provide the Fire Certificate to you at their own cost. If the landlord refuses to do so, make sure to factor in the cost of obtaining this Fire Certificate when discussing your rent with the landlord.
The SCDF requires restaurant owners to clean key equipment like your exhaust ducts and kitchen hoods yearly. You must engage a professional cleaning firm to do this. Such cleanings must be done at least once a year.
Your Fire Certificates must be renewed annually, and can only be renewed after you complete a successful SCDF inspection. So make sure to keep your restaurant clean, tidy, and safe!
Food hygiene certificates:
All food handlers must possess a valid Food Hygiene Certificate, and be registered with the SFA (Singapore Food Association). A food handler is anyone who prepares food and beverages. This means chefs, cooks, and kitchen assistants. Waiters are generally not considered food handlers, unless they are also involved in preparing and cooking the food. Food handlers can earn a Food Hygiene Certificate by attending an NEA-accredited course, like this one run by the SFA.
Course fees: $160.50, incl. GST (these fees are before subsidies)
Course duration: 1 day (7.5 hours)
Course fee subsidies:
Category
Fees (after subsidy)
Self-sponsored:

–          Singapore citizen

–          40 years old and above

$25.50 (equivalent to 90% subsidy)
Self-sponsored:

–          Singapore citizen or PR

–          21 years old and above

$40.50 (equivalent to 80% subsidy)
Company-sponsored:

–          SMEs: Singapore citizens or PR

–          Non-SMEs: Singapore citizens aged 40 years old and above

$25.50 (equivalent to 90% subsidy)
Company-sponsored:

–          Non-SMEs: Singapore citizens or PR aged 40 years old and below

$40.50 (equivalent to 80% subsidy)
Food handlers are required to attend a refresher course 5 years after they first attained their Food Hygiene Certificate. Thereafter, food handlers will need to attend a refresher course once every 10 years.
Liquor licenses:
If you want to serve any alcohol, you must have a liquor license. These are issued by the Singapore Police Force. To apply for a license, simply use GoBusiness' online portal.
The cost of a liquor license ranges from $110/year to $880/year (accurate at publication). Licenses must be renewed yearly.
Liquor is a fantastic way to earn lots of extra profit, since the margins are much higher on alcohol than food.
Here's an overview of the various liquor licenses:
| | | |
| --- | --- | --- |
| License type | Consumption hours | Cost |
| 1A | Sale for on-site consumption from 6:00 AM to 11:59 PM | $880/year |
| 1B | Sale for on-site consumption from 6:00 AM to 10:00 PM | $660/year |
| 2A | Sale for on-site consumption of beer only, from 6:00 AM to 11:59 PM | $460/year |
| 2B | Sale for on-site consumption of beer only, during specified opening hours (stipulated in license) | $285/year |
| 3A | Sale of under 30 litres of liquor for consumption at premises other than the licensed premises, from 7:00 AM to 10:29 PM | $110/year |
| 3B | Sale of under 30 litres of beer for consumption at premises other than the licensed premises only from 7 am to 10.29 pm | $110/year |
| 4 | Sale of over 30 litres of liquor for consumption at premises other than the licensed premises from 7:00 AM to 10:29 PM | $110/year |
| 5 | Temporary license | $22/day or $44 per week, whichever is lower |
Selling liquor without holding a valid license is a criminal offence. Penalties include:
Fine up to $20,000, and/or
Jail up to 3 months
Halal licenses:
If you want to serve Halal food, you must make an application to MUIS. Application fees range from $775 for restaurants which are under 186 sqm (2000 square feet), up to $1,140 for restaurants which are over 186 sqm. Prices exclude GST.
As part of the application, you have to submit your restaurant's floor plan to MUIS. This floor plan should clearly state the production areas, storage areas for inventory and cooking/dining equipment, and dishwashing areas. These areas can only be used for Halal items. If any Haram items touch these areas, you must inform MUIS, and a ritual cleansing will be ordered.
You must ensure that all inventory used are halal-certified. These inventory items must be declared to MUIS via their online portal.
You must hire at least two Muslim staff members, and they must each have Halal training certificates. At least one of these Muslim employees must be a supervisor. Also, employees are subject to MUIS' approval.
Do note that MUIS may order laboratory tests to be carried out on your food. MUIS can also order religious cleansing procedures to be performed if they deem it necessary. The cost of these tests and procedures must be borne by you.
GST-registration:
Eventually, when your restaurant starts gaining traction and generates more than $1 million in revenue, you'll need to become GST-registered. Here's another guide on GST-registration for when you get there.
Step 10: Hiring employees
With all the effort that you've put into developing your menu, you'll now need great kitchen staff to produce it on a consistent basis, along with friendly waiters to deliver great service. Start by looking at the capacity of your restaurant? Is it 25 covers? 100 covers? Are you open all day, or only for dinner? Look at how many covers you plan to turn over each day, and then plan your hiring needs accordingly.
In labour-starved Singapore, hiring for a Food and Beverage business is definitely a challenge. You need to bring in talented staff with good compensation packages, but you also can't afford to pay too much, since margins are thin in this industry. Labour costs will form a significant portion of your ongoing expenses. Typically, you can expect to spend around 33% of your total revenue on labour.
First off, do some research on what the average compensation is for each position that you plan to hire. Do this for your head chef, your line cook, your dishwasher, your manager, your server, and whoever else you're going to bring on board. Then, set a minimum, and maximum salary that you'll pay. You can invest more resources into positions that you think are key (e.g. the head chef and manager), and then perhaps pay average wages for the rest of your employees.
Here's a quick overview on the 3 main positions you'll hire:
Manager:
This is the most important person, next to your head chef. Your manager will ensure the smooth running of your restaurant, make sure that your staff are all pulling their weight, and that all customers leave your establishment happy and full. Managers should receive a portion of profits or shares in the business to keep them motivated.
Chefs and cooks:
Bring them in for cooking interviews. Have them cook your menu. Does their food taste amazing? Have a look at their past culinary experience. Where did they work? Call up their previous employer and see if they were a great or middling employee.
Waiters:
Service is such a crucial part of the dining experience. A visit to a restaurant can be easily ruined by poor service, even if the food is top-notch. Have you ever been to a great restaurant, only to be disappointed by tardy or rude service? It didn't really matter that the food was good, right? Chances are you wouldn't go back to that restaurant – I know I wouldn't.
Make sure to thoroughly screen your waiters for their service standards. How friendly are they with customers? Do they smile often? Are they confident? Can they easily explain your? How passionate are they about service, ultimately? Some people are built for the service line, and others just won't make it no matter the amount of training.
Insider tips:
An F&B insider tip on hiring is not to rely too much on online job portals, like LinkedIn. Rather, consider recruiting people from other F&B establishments. That's the most solid way to know that you have someone with firm experience. You can experience the service standards of waiters you want to recruit, and see (or rather, taste) the quality of chefs you want to hire. For restaurant staff, the proof really is in the pudding. It's best to get out there to rope passionate people in.
Hygiene training:
Make sure you drill your staff on maintaining proper hygiene practices. A "simple" mistake like taking a knife used for raw food to cut cooked food could at best give someone bad diarrhea, or at worst kill them. Cross-contamination is a huge issue in restaurants, because it's so easy to forget about. Have two separate sets of equipment for cooked food, versus raw food.
Enforce daily thorough wipe downs and cleaning. Do regular spring cleanings, especially in areas where inventory is stored. Label all produce with purchase dates. If you pre-cook anything, label it with a date of manufacture. You need to have a rigorous system like this, because otherwise you'll forget and expired food might end up in someone's food, with vomitous consequences. Don't turn your restaurant into a Kitchen Nightmares episode.
You've sunk lots of money into this journey, so the last thing you need is having to shut your doors because you/your staff made someone terribly sick.
Step 11: Marketing and branding
Lots of marketing for restaurants can be done either freely, or without significant marketing expenses. Leverage social media channels like Facebook or Instagram. Take regular photographs of your food. Shoot videos of your food being cooked in the kitchen, so potential customers can see how your food is being prepared. If you use unique ingredients, tell customers about it. Shoot videos of your staff – have them tell stories of why they're working with you, what their job means to them, to humanise the business in your customers' eyes. If you're diligent with your social media marketing, you can grow your awareness without having to spend too much on ads.
Ultimately, a successful restaurant won't be built by acquiring customers through paid ads. Instead, word of mouth will be your best growth channel. Growth through word-of-mouth is exponential, when compounded over time. Ensure that every customer that walks through your doors is treated like a king or queen. If you can do this consistently, you'll have a very good chance of building a restaurant empire.
It's important that you don't fall into the trap of thinking that "if I build it, they will come". A common mistake that new entrepreneurs make, with often fatal consequences. If you have a great product, good for you. You've won half the battle of running and scaling a restaurant. To win the other half, you'll need to get as many people as you can to recognise you even exist.
Strong investments into marketing and branding are vital to succeed in an industry as ridiculously crowded as F&B.
Loyalty cards:
Give your customers loyalty cards to encourage them to visit you again. For example, you could design a loyalty rewards programme that gives customers a 1-for-1 main course offer on every 5th visit. Repeat business is the lifeblood of any business, and loyalty cards are a fantastic way to reward your best customers.
Gift certificates:
Giving customers gift cards is an affordable and really easy method to attract more customers. 20% off Monday night dinners. Free side dishes at Wednesday lunches. Get creative with your promotions. A good way to quickly get exposure is to reach out to event organisers, and have them use your gift certificates as prizes in lucky draws or competitions. You can do this for public events, corporate events, personal events, and more. You can also donate these gift certificates to charities. Non-profit organisations will often organise raffles or lucky draws to raise money.
Influencer marketing:
It's a good idea to invite influencers to come try your food. Influencers with smaller followings may be willing to post reviews of your food on their social media accounts or blogs for nothing more than a free meal. Influencers with bigger followings will often ask for a fee, unless they're doing it as part of their routine food hunts. If you can generate a buzz around your restaurant early on, chances are you might be able to lure some bigger influencers in without having to pay them for a sponsored post. Seth Lui, who runs Singapore's most visited food website, has been reported to charge between $1,000 to $10,000 for a single post (and that was back in 2015!).
An interesting strategy here may be to leverage "micro-influencers" and "nano-influencers". "Micro-influencers" are people with 10,000 to 50,000 followers, who are known for their posts/experience in a particular vertical. (This 10,000 to 50,000 figure is a global statistic; for smaller markets like Singapore, perhaps under 10,000 might be a more appropriate figure). For F&B, you may wish to target micro-influencers who are home cooks or culinary enthusiasts.
They key thing is that micro-influencers are cheaper to hire, and their followers tend to have higher levels of engagement with their posts. This allows you to not only spend less money, but also to get a potentially higher return on dollars that you spend on influencer marketing. You can do the same with "nano-influencers", who are people with 3,000 to 5,000 followers. Nano-influencers may be much more willing to simply visit your restaurant for a free meal, without a sponsored post fee.
Think about the math for a second: if you can get 10 or 20 of these people to visit your restaurant and post reviews, your posts will reach a combined audience of anywhere between 30,000 to over 100,000 people. You can still generate a significant amount of buzz this way, without having to shell out the huge sums of money that more famous influencers would charge.
Step 12: Acquiring Food Poisoning and Restaurant Insurance
Congratulations for making it this far! If you've completed steps 1 to 12, you've probably invested close to a year (or more), and several hundred thousand dollars into realising your dreams. Grab a beer and give yourself a high-five – you're almost at the finish line.
Before you open your doors to customers, it's really important that you protect yourself against major F&B business risks. One of the worst risks that restaurants face is food poisoning liability.
Another major risk is worker injuries. Under Singapore law, you must compensate all workers for work-related injuries/sickness. For instance, if your chef cuts himself while preparing a dinner service, you'll have to compensate him. If you don't have Work Injury Compensation Insurance, this compensation is going to come out of your pocket. Work Injury Compensation Insurance is legally required for all manual workers. In the context of restaurants, occupations where Work Injury Compensation Insurance is mandatory include:
Chefs/Cooks
Kitchen Assistants
Waiters
Dishwashers
Cleaners
Delivery staff
A restaurant insurance package will combine all the essential covers that you need into a single policy. This provides comprehensive, affordable, and easy-to-manage coverage. Provide's restaurant insurance package covers:
Restaurant startup resources:
Here's a further list of resources that you may find useful as you work towards starting your restaurant in Singapore:
Restaurant Association of Singapore: When you start your own restaurant, joining our local Restaurant Association may be a useful idea. You can network with fellow restaurant owners, and receive some discounts on certain industry events.
Beverage Trader Network Singapore: Comprehensive list of wine/liquor distributors in Singapore. Emails, phone numbers, websites, and addresses are all conveniently provided for in one page. Simply look through this list, pick a company you like, and contact them to get some quotes for liquor that you can serve. Consider shopping around for a few quotes so you can get the best deal.
Menu Maker from Canva: Use this tool to create beautiful menus. No need to pay a designer to do it when you can make one yourself.
Restaurant Business Plan: Use this to quickly put together the structure of a business plan. This can help you organise your thoughts more coherently, save time, and might also bring up points that you might not have previously thought of.
Restaurant Startup and Growth Magazine: A regularly updated online magazine that's dedicated to restaurant owners. You'll find lots of education material on how to grow your restaurant business.