QuickBooks Review 2020: Online Accounting for Small Business
QuickBooks is one of the most – if not the most – well-known names for online business accounting. QuickBooks serves more than 2 million businesses globally, and its rich features make it a favourite of small businesses all the way to large companies. QuickBooks has great functionality: extensive reports, customisable invoices, inventory tracking, and extensive integrations. It also has unique features like SME financing via QuickBooks Capital (only for businesses in USA/Canada), and QuickBooks Live Bookkeeping, which allows you to get an accountant to help with your accounting tasks.
QuickBooks is really ideal for small-medium businesses that need strong features, in a simple-to-use package that really helps save time on accounting. It helps that QuickBooks' highest tier plan allows up to 26 users, which allows businesses with more workers to effectively track their projects and transactions together.
QuickBooks Add-Ons
Payments: You can accept online payments with QuickBooks Payments. Transaction fees are 3.4% + USD 0.25 for online payments.
Payroll: You can add on payroll functionality, with a choice from 3 different plans: Core, Premium, and Elite. These plans range from USD 45 to USD 125/month, with an additional cost between USD4-10/employee.
Live Bookkeeping: You can outsource your accounting work to a QuickBooks accountant with this function. Fees range from USD 300 to 600 per month depending on the workload. This is one of QuickBooks' most useful functions, and can really help you save time and ensure you have clean, accurate records.
New Additions
In their latest update in October 2019, QuickBooks added several new features on top of its already impressive function-rich base.
Instant Deposits
You can now receive instant deposits from clients via QuickBooks Payments. Clients can pay directly through the invoices you send them. This helps you pay your employees, suppliers, and other expenses much quicker. Payments are automatically matched to invoices, so that reconciliation is conveniently done for you.
Mobile App Re-Design
The mobile app now has a more attractive, easy to use design that uses large icons instead of long text lists. These icons help you navigate to the most used functions like invoices, transactions, customers, and sales receipts. It's a lot easier and quicker to access these critical accounting records now with the app update. QuickBooks has been learning from its competitors about good UX, and it's showing in the designs of their products.
Batch Entry
QuickBooks allows you to make edits to multiple line items at once. For instance, if you have to write many cheques at the same time, you've probably gotten frustrated with having to repeatedly write similar things again and again. With QuickBooks batch entry, you can now duplicate cheque line items for multiple categories, as well as create one cheque and then duplicate it across multiple vendors. You can make batch entries/edits for other things like GST too – a single click allows you to set GST rates for all Chart of Accounts items  that you select, which is a big time saver.
Exporting
You can now export QuickBooks reports to Google Sheets.
QuickBooks' Features
Dashboard
QuickBooks' dashboard gives you a quick overview of your expenses, invoices, profit & loss, sales, and bank balances (if you've connected your bank accounts). A navigational menu on the left lets you access important features like invoices, expenses, workers. Instead of manually going through your transactions, there's a search function to help you bring up what exactly what you're looking for. There's a "see all activity" button which brings up a full audit record if you need to do a deep-dive into your transaction history. Overall, it's a well-designed dashboard that gives you all the high-level, critical information you need to assess your business' financial health.
Chart of Accounts
Prior to 2018, there wasn't a search function for the Chart of Accounts, which was a real bummer if you were trying to find a specific transaction. Even though this is one of the most critical accounts, you had to scroll up and down to find an account. There's a search function now though, which makes pulling up information a lot easier.
General Ledger
QuickBooks' general ledger is well-designed, and allows you to easily view all your transactions in a single glance. You can view starting balances, ending balances, and all transactions sorted by account. This report allows you to quickly spot incorrect ending balances, and how much has been posted to revenue accounts and drawn from expense accounts. If you find an incorrect or suspicious transaction, you can click on it to view transaction details. Both cash and accrual methods are supported.
Sales
QuickBooks Sales menu gives you a quick overview of how much revenue you're generating over time, and you can set the time period from weekly, monthly, quarterly, and annually. You can see how many invoices are paid versus unpaid. You can also view all your customers' payment statuses. If you use QuickBooks Payments or link QuickBooks to your bank account, you can also handily view all your deposits here as well. No more tabbing to-and-fro from your bank account to your accounting platform. The sales menu also lets easily send a new invoice or set up a recurring invoice.
Invoices             
QuickBooks has 6 different invoice templates. Invoices are highly customizable, You can change the logo, font, colour, background, header, footer, and many other elements. QuickBooks has a recurring invoice feature that isn't common amongst competitors, allowing you to set up recurring invoices so that you can bill clients at a particular time repeatedly. You can set up automatic email reminders when customer invoice due dates are approaching. You can also set up late payment reminders to alert customers once their invoices are overdue.
QuickBooks also features invoice tracking, so you can see when your customers have viewed your invoices. 6 languages are supported for invoices: English, Chinese, Spanish, Portuguese, French, and Italian. The first two should be especially helpful to businesses in Singapore.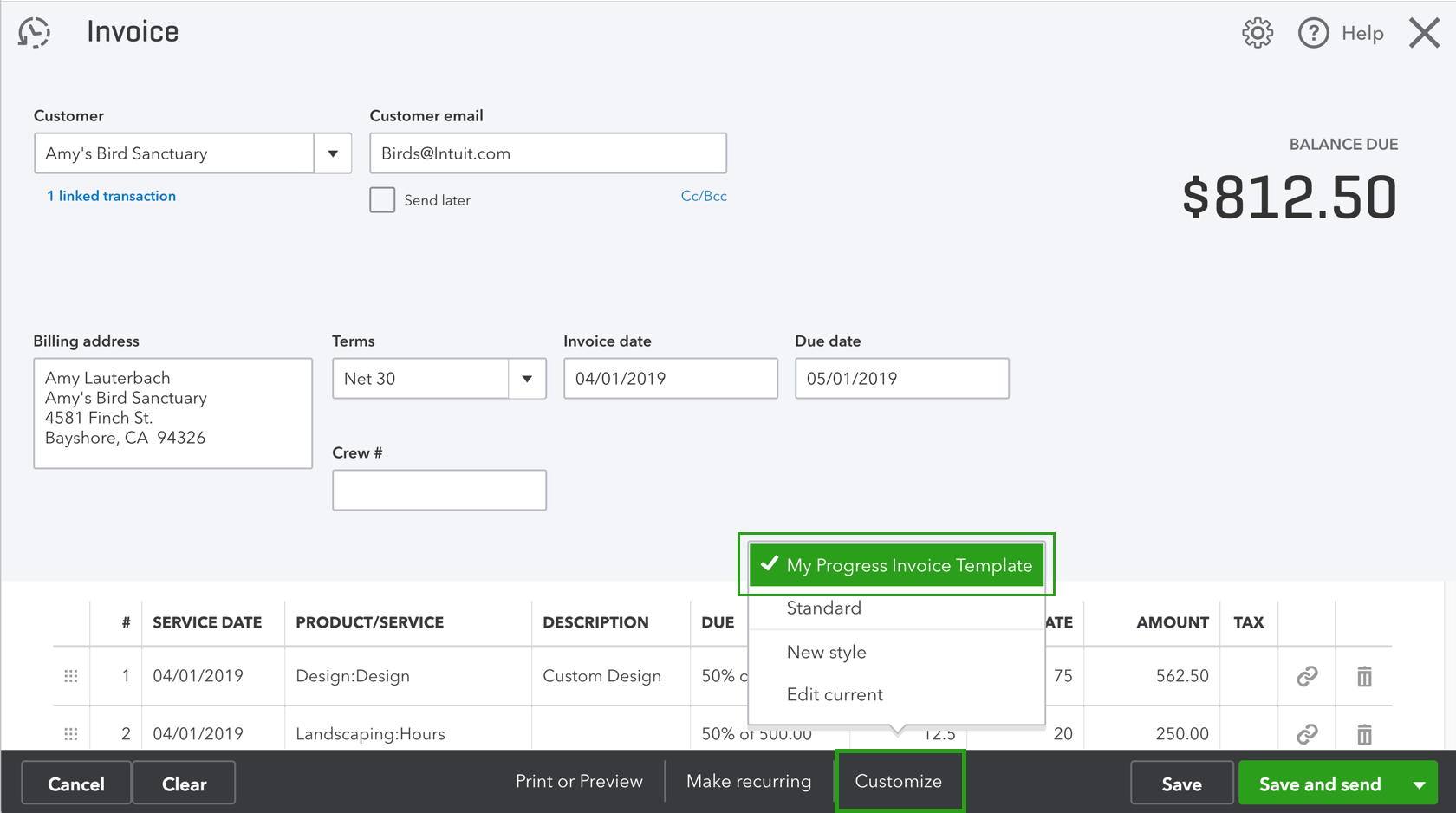 Contact Management
QuickBooks has a comprehensive client management system. Beyond the normal stuff like contact information, you can save preferred payment methods, default payment terms, tax codes, opening balances. You can even tag attachments to each contact (like legal documents, images, etc.) You can also customise the category of "customers" to different names like patients, members, tenants, etc. which makes it helpful for businesses across multiple industries.
Client Portal
Your clients have a portal that they can login to for viewing invoices (unfortunately the portal doesn't support estimates you've sent them). Your clients can send you payments through the portal and ask you questions about the invoices.
Estimates
You can easily send estimates to your clients. However, unlike FreshBooks, you can't send detailed proposals. Estimates can be converted into invoices.
Purchase Orders
You can create purchase orders, and specify which orders will be recurring so you don't have to keep entering them. You can convert purchase orders into bills.
Sales Receipts
Unlike invoices, which can only be closed when customers make payment, QuickBooks allows you to create sales receipts. This lets you record sales for which payment has already been received. This is helpful for industries where on-the-spot payment is the norm, e.g. food & beverage, retail, and clinics.
Watch the short clip below to see QuickBooks automatically extract receipt information:
Expenses
You can connect QuickBooks to your bank accounts to enable "live" importing of transactions. When you connect your bank account to QuickBooks, the software will automatically import your last 90 days of transactions.
Categorising expenses is easy with over 80 default categories to choose from. You can also create your own custom expense categories. QuickBooks has a useful receipt capture function that allows you up to upload receipt images, with QuickBooks automatically extracting key information like transaction amount and date from the receipt. You can then tag receipts to specific expense payments.
You can also create bank rules to automatically categorise your transactions. QuickBooks uses machine learning tools to learn your categorisation patterns – the more use QuickBooks, the better it gets at sorting your transactions for you.
Accounts Payable
You can create AP accounts, and can set up recurring payables so you don't have to keep entering the same expenses repeatedly.  There's a well-designed dashboard that shows you all your vendors, your total purchase value, and your overdue, outstanding, and paid bills. This is a really helpful function to help you manage your payables.
Inventory
QuickBooks has a nice inventory tracking system that simplifies product handling for businesses. You can add inventory items with SKU numbers, sale prices, purchase prices, product images, and product descriptions. You can also set automatic re-ordering alerts when stocks are running low. You can create bundles, which are a collection of different inventory items that you sell together (e.g. a fruit basket, a set of clothes). This saves you from having to select each inventory item individually when you make a sale.
Packing Slips
You can create packing slips within QuickBooks, which is easier than other competitors that require third-party integrations to do this.
Project Tracking
You can create projects, add team members, add hours worked to projects, and assign expenses. One unique feature QuickBooks has is it allows you to immediately see the direct profitability of projects (e.g. 50% profit) by comparing sales value with assigned expenses. This helps you prioritise projects better, and also gives you a quick view into any margin issues that may arise with particular jobs. With each project, you can assign job costing via labour, materials, overhead, and more. Projects will track the number of hours worked by each contributor.
Time Tracking
QuickBooks allows you to track your time. Assign your time to projects, describe the work. You can choose customers to assign billable hours. This provides a transparent breakdown of what services were provided, and how many hours were put into them, which helps reduce payment disputes over completed work. You can use automatic time trackers (just press start/stop), or enter hours worked manually.
There's even a GPS tracking function so you can keep tabs on your employees when they're out on the road meeting clients. Users can also attach photos as evidence of completed work, or to update co-workers on the status of the job. The time-tracker function also allows you to set up schedules so you can ensure your workers meet deadlines, and you can set automatic reminders so no one forgets that important client meeting!
Budgets
You can create up to 5 budgets to plan for future revenues and expenses. You can compare these budgets with actual business performance to see how much you've beaten (or missed) targets by.
QuickBooks Customer Support
Phone: Monday to Friday, 6AM to 6PM; Saturday 6AM to 3PM. Many online reviews cite long wait times on the phone, so don't have high expectations for quick customer service unlike with FreshBooks.
Message: QuickBooks has a live chat function. However, users also often report having to wait long periods of time to get a response.
Documentation: Online documentation is extensive, with lots of written guides to walk you through the platform. The documentation doesn't have pictures, so it's less intuitive than FreshBooks', but it gets the job done.
There's an FAQ, blog, and Q&A forum that helps users understand all of QuickBooks' functions, from the simple to the complex. There's also a live "AI" chat that can answer basic questions like "how much sales did I generate last year" or "which payments are overdue".
Videos: QuickBooks has a series of video tutorials to help you navigate the platform.
Ultimate Verdict
QuickBooks is a great online accounting software for small-medium businesses. Its broad range of features and advanced accounting functions makes it an excellent choice for small businesses to medium enterprises. Its 600+ integrations (and counting) means you can enhance this functionality even more broadly, with great support for key functions like payroll and taxes.
Customer support does have a long way to go, but as far as the robustness of the software, QuickBooks is hard to beat. Previously, another issue that users had with QuickBooks was its limited number of users – that's now been fixed, with the highest tier plan supporting 26 users (25 regular seats + 1 accountant seat).
QuickBooks Online is our editor's choice for online small-medium business accounting. If you need a web-based accounting platform that has great features, saves you time, and is easy to use, we'd highly recommend you give QuickBooks a try.
Ready to protect your business?
If you're running a business, don't forget to protect your company. Provide offers the best online business insurance. Get a quote within 60 seconds, and save up to 25% on your premiums. Have a look at our most common policies: