You're tired of the corporate life.
You want to be your own boss.
You love drinking coffee, and want to share your caffeinated passion with everyone else.
So why not open a café? Well, hang on cowboy. Before you dive into the deep end of things, make sure you know what you're getting into.
Here's a handy guide on what it will cost to open a café in Singapore:
Rental
Leasing a space in jam-packed Singapore will be your single biggest recurring expense.
Central Business District (CBD)
A prime location in areas like City Hall or Raffles Place will cost between $10 to $20 per square foot. So for an average 1,000 square feet café, expect to pay $10,000 to $20,000 in rent each month.
Residential Suburbs
A popular strategy for would-be café owners has been to lease places in residential neighbourhoods – areas like Serangoon, Tampines, and Jalan Besar. Although costs are lower than in the CBD, rent here is still not cheap.
Expect to pay between $5 to $9 per square foot, for a monthly rent of $5,000 to $9,000.
Deposits
You will need to set aside a deposit when signing the lease – amounts will range between 3 to 6 months of rent. In addition to the deposit funds, you should also have 3-4 months' worth of operational costs (rent, salaries, consumables, etc.) saved in case you do not generate sufficient revenue in the early stages of your business. This will be one of the largest components of your start-up costs.
Rent Hikes
Given the strong demand for commercial spaces, you will likely face rent increases from your landlord when your lease expires. Experienced F&B owners who have inside contacts in the industry may be able to negotiate caps on rent increases, along with other perks like lower rental deposits. However, if you are new to the F&B scene, or your café is too small to warrant more favourable terms, it is unlikely you will have much negotiating leverage.
If it is your first time starting a café, it would be advisable to go with a shorter lease of around 6 months or so. Although it is likely your rent will be hiked at the end of your contract, a shorter lease minimises your sunk costs. Most importantly, it allows you to test how many customers your new business will actually be able to pull in.
If you find your business is not taking off, at least you have the option of either pulling the plug or investing more capital to keep the business going – a long lease would prevent you from exiting a failing business without incurring significant handover costs.
Relocation Costs
You must also consider costs for when your lease expires, and you plan to switch locations. Most leases will include a clause stating that you must restore the location to its original state. Restoration fees typically run around SGD 5,000 for a 1000 square feet café.
Renovation
What happens after you find a great spot for your café? You need to transform those four walls into the place of your coffee-tinted dreams. Expect to pay at least SGD 40,000 for renovating a 1000 square feet café – that includes design consulting, construction work, and furniture.
Given the power of social media in advertising your café, it pays to invest in a chic interior design that is Instagram-friendly. Many popular cafés in Singapore have paid great attention to crafting an alluring space: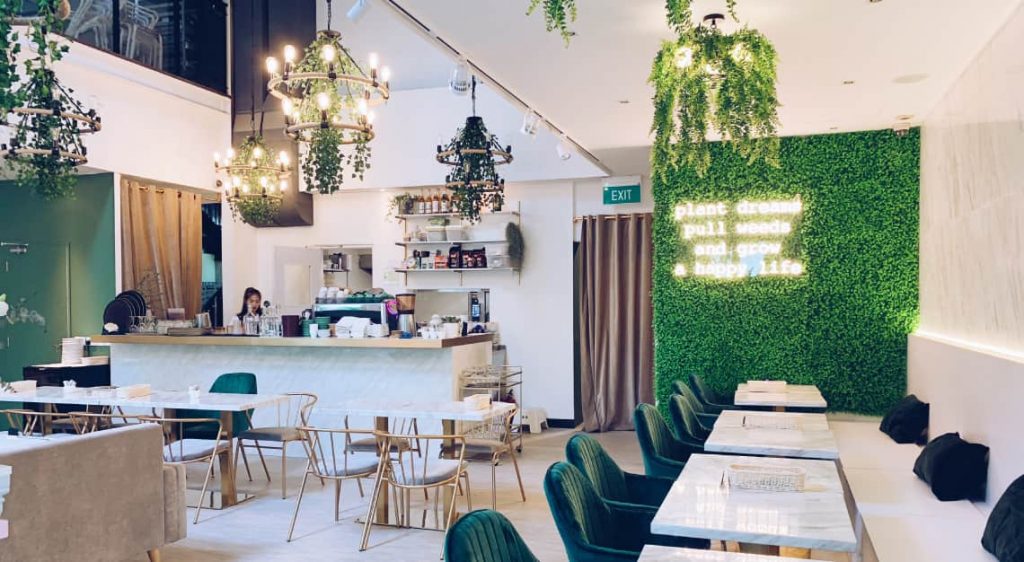 Such attractive photos shared by happy customers will be one of your primary advertising channels – it would be wise not to skimp in this area.
Manpower
Labour will be your second biggest recurring expense. The number of staff required will depend on whether you serve cooked food and drinks, or beverages only.
| | | |
| --- | --- | --- |
| Function | Staff Headcount (Drinks Only) | Staff Headcount (Cooked Food and Drinks) |
| Cashier | 1 | 1 |
| Barista | 1-2 | 1-2 |
| Waitstaff | 1-2 | 1-2 |
| Cook | NA | 1-2 |
| Total Headcount | 3-5 | 4-6 |
| Total Cost per Month | $6,000-$10,000 | $8,000-$12,000 |

Do note that the above roster only accounts for minimum staffing required.
A full-time Singaporean or PR will cost between $2,000 to $2,500. Given the difficulty in finding full-time staff for F&B jobs, you will likely need to hire part-timers for $7 to $8 an hour.
Training
A basic barista course starts at around SGD 400 per participant. These foundational courses will teach you the basics of proper espresso extraction, milk frothing, and latte art.
If you want to differentiate your café by serving truly exceptional coffee, consider taking professional-level courses. These will teach you advanced brewing and roasting techniques, and how different coffee bean processing methods affect the flavour of the drink. These advanced courses start from SGD 1,000.


If you are at least 25 years old and are a Singaporean/PR, it is advisable to choose a Skillsfuture-accredited course, since you can use your Skillsfuture credits as a subsidy. All Singaporeans/PRs receive $500 in credits upon turning 25. If you have not used your credits yet, it is likely that you will not have to pay anything out of pocket for a basic barista course. (link: https://www.highlandercoffee.com/coffee-academy/skillsfuture-professional-barista-workshop/)
Equipment
Coffee machine costs will vary significantly depending on the make and brand. Top of the line machines from renowned brands like La Marzocco start from $25,000. If this is your first café, go for entry-level commercial machines, like the Lelit PLS2 Giulietta Espresso Machine (url: https://www.amazon.co.uk/PL2SVH2-Giulietta-Espresso-Coffee-Machine/dp/B078YPZRDK), which­­­­­­­ costs $3,500.
A good coffee grinder is just as important as the coffee machine. Many coffee shops will have two grinders – one as a primary, the other as a backup. Lean towards burr grinders rather than blade grinders – the former produces more consistent grinds that make for better coffees.  A good quality grinder, like this one from Anfim starts from SGD 3,000.
If you are just starting out in the coffee scene, it is best to go for more affordable equipment. You can always upgrade your machines once you have built up a solid customer base.
Also, plan to set aside $5,000 for refrigerated display units – you can sell baked goods and chilled sandwiches with these. If you are serving cooked food, allocate another $25,000 for kitchen equipment like stovetops, hoods and ovens.  
Consumables
Using quality beans will make all the difference in the coffees you sell. A great way to keep customers coming back (and new ones coming in) is to consistently invest in great beans. A 1kg bag of good pre-roasted beans will cost $15-20, and will produce about 120 espressos. Set aside at least $500 each month for beans.
Utilities
Water and electricity will cost around $1,000 a month for a typical café that operates around 8-10 hours daily.
How many customers will you need to serve to break even?
The big question. Minimum startup costs are around $120,000.
Let us apply the following assumptions:
1. You sell only coffee (we exclude food for simplicity)
2. A cup of coffee is priced at $4 (market rate)
3. You want to recoup your investment by the end of your lease (6 months)

You would need to sell a total of 30,000 cups of coffee.
If you operate 7 days a week, this means you must sell at least 166 cups every day, on average, to break even.
Protect your investment
Starting a café is expensive. Suffering accidents while running your café is even more expensive.
Your coffee machines could break down. A customer could fall ill after consuming your drinks or food. Your barista might burn himself while making a latte. All these business interruptions will cost you extra money to resolve.
Given the $100,000+ you will spend building your café, make sure you protect your investment with a good F&B business package insurance policy. These all-one-one policies start from only $180 a year! They will provide you several hundred thousand dollars' worth of insurance covering common F&B risks like:
1. Fire/water leaks damaging your cafe and inventory
2. Loss of business revenue due to inadvertent store closures
3. Customers accidentally injured in your cafe, or falling sick from your food/beverages
4. Employees getting injured while working
5. Employees stealing money from the cash registers
6. …and many more protections to keep your business running smoothly
Cafe insurance package from as low as $180/year. Same-day quote and buy – reach out right now!